If you're looking to make a name for yourself in the UFC you go after the big dog.
If he isn't available when you want him a good strategy would be to try go after a title and if you win it sets you up nicely to take pot shots at anyone that you can think of.
So did new UFC lightweight champion Eddie Alvarez, anyway.
The Philadelphia native who is 3-1 since entering the UFC took the opportunity after defeating Rafael dos Anjos for the lightweight belt to call out all around UFC bad boy Conor McGregor by telling the media that it would be a 'easy' fight. Brave move Eddie.
Alvarez let rip: "This guy to the right of me [dos Anjos] is the best in the division, so to be able to come out with a win over him — and before him was Pettis, and before him was Gilbert — these are the best guys in the division.
"I'm not taking on top 15, so I would like to ask [UFC president] Dana White to please give me an easier fight, like Conor McGregor. I deserve that. I've been fighting the best guys so I would like a gimme fight. Conor, I'd more than welcome that."
McGregor is currently pencilled in to take on Nate Diaz at UFC 202 in August after the fight was re-arranged from July and if McGregor was to win the re-match he might see it as the perfect opportunity to step up and take on Alvarez.
When discussing how the potential bout would McGregor would go, Alvarez didn't relent with his digs.
He said: "There's a lot of guys in the UFC who are good at one thing and they get matched up stylistically well. They make their way to the top without ever going against the best guys — the true best guys, like Rafael dos Anjos.
"They sneak their way around them and they live off perception, not what really is. He [McGregor] is one of them. I think he could get found out if he was ever to fight Rafael dos Anjos or fight myself. He'd be found out very quickly."
We wait with bated breath for the response.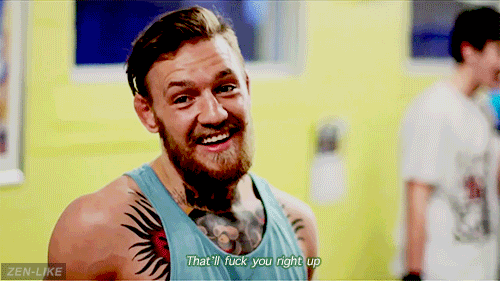 Loaded sports writer Pearse Corcoran has covered news, sport and entertainment for several national newspapers and radio stations in Ireland. Follow him on Twitter at @PearseCorcoran